Syndicated from source by Andrew & Co Graphics & Wallpaper, Hooper, Utah
Cornwall Sign Project: See how it was done
Cornwall Sign Project
AGC Signs recently had the privilege of doing a special sign project for the city of Cornwall. Here is how we did it.
Follow our progress through images and videos as you see this project come to life. You can also contact us if you are inspired to create custom signage for your business!
Cutting out the Letters
We used our state-of-the-art CNC (computer numerical control) machine to cut out the letters and shapes for the Cornwall sign project.
Check out our CNC machine in action
Using the CNC machine for making custom signage gives you more precision with your cuts and greater efficiency in production.
Sizing of the Letters and Images
We used 1" thickness for the letters and images for this sign project. This is a great size because it shows more depth allowing the letters to "pop" off the surface.
Preparing the Letters for Mounting
Each letter was tapped at the back so that pins could be inserted into the back of the letter.
Each letter was then stud mounted to provide a sturdy installation. We drilled holes into the back of each letter for the studs to thread into. They were then inserted into the brick wall face.
At the Installation Site
Below is a picture of the blank monument sign base, ready for the installation of the letters and symbols.
The walls are prepped for installation
Drilling the holes for the letters
The letters are mounted on the wall
Watch the Finishing stages in about a minute
The finished product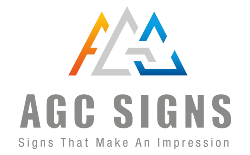 Trust AGC Signs for your Custom sign project
At AGC Signs, we are proud to have helped The city of Cornwall create such a beautiful and memorable monument sign for their city!
We can do the same for your business. If you are located in Ontario and are interested in custom signage - from large storefront signs to small interior office signs, we've got you covered. Contact us today for a free quote.