Syndicated from source by Andrew & Co Graphics & Wallpaper, Hooper, Utah
Today we're going to take a close look at COVID-19 safety signage.
We've been in the custom sign industry in Ontario for over 10 years and we'd love to share our expertise with you.
We'll discuss the importance of safety signage in a pandemic, the advantage of having your signage customized, and the different types available. So let's get going.
COVID-19 safety signage informs people of your new safety guidelines
COVID-19 Safety Signage
During a pandemic like COVID-19, it's extremely important to keep both your staff and your customers safe. Safety signage is a key component in informing visitors to your location of your protocols and preventing the spread of of airborne pathogens.
Importance of COVID-19 Safety Signage
As we all try to navigate the challenges of a pandemic, having the right kinds of safety signage is very important. The way you do business has had to change almost overnight, and pandemic safety signage has become a vital part of how you can operate your business safely and responsibly.
Safety Signage Educates: One of the key reasons you need safety signage is to educate your visitors regarding your physical distancing protocols.
Signage placed at your entrance and throughout your facility will let people know what your policies are such as:
The wearing of masks

The distance to keep apart

Where your sanitizing stations are

How many people are allowed inside your premises at one time.
Safety signage will inform people of your protocols
Safety Signage Helps Prevent the Spread of Germs: We are all learning how to safely go out in public again, so safety signage provides useful reminders about how you can be together yet prevent the spread of dangerous germs and airborne pathogens. Your signage can be a visual reminder to maintain your distance from others at all times.
Safety Signage Can Help to Limit Entry: You can also use safety signage to remind people of the symptoms of COVID-19 and to encourage them to evaluate their own health situation and not enter if they are experiencing any or all of the following symptoms:
Fever

Cough

Trouble Breathing

Sore Throat

Runny Nose

Loss of Taste or Smell

Overall not feeling well
For a complete list of COVID-19 symptoms, click here.
Signage can even be used to thank our front-line Workers
Safety Signage Is a Great Reminder: Even though almost everyone has heard about physical distancing guidelines, it is easy to become preoccupied and forget to follow them. Having safety signage strategically placed not only at the entrances but also throughout your facilities will serve as a constant reminder to stay vigilant.
You can even use signage as a reminder to take time to thank our front-line workers.
Custom COVID-19 Safety Signage by AGC Signs
No two businesses or institutions are the same; that's why AGC Signs offers you the ability to have customized safety signage made up for the particular needs of your business.
You can choose the size and types of signage that you need and you can have them made to promote your brand as well by incorporating your business's particular colours, fonts, logos and images. AGC can custom design and manufacture unique safety signs to meet your particular needs.
AGC Signs can customize COVID-19 safety signage to meet your needs
Categories of COVID-19 Safety Signage
Physical Distancing Exterior Safety Signage: It is important to notify your visitors of your COVID-19 protocols even before they enter your building. You can accomplish this with a number of options including:
Special wind signs placed on the sidewalk outside of your premises that the wind to move through and around them while the sturdy base keeps them firmly in place. You won't have to worry about them tipping over.

Pavement stickers that indicate the proper physical distancing while customers are lining up to wait until they can enter.

Door signs that remind people that they need to wear a mask while inside.
Winds signs and pavement decals are useful safety signage
Physical Distancing Interior Safety Signage: Inside your facility, it is good to have additional reminders placed around your location to remind people to continue to physical distance. These could include:
Free-standing banners that serve as a reminder to keep a safe distance apart

Floor decals that show how far apart you need to remain while waiting in a line-up

Directional signs to show the flow of traffic down aisles or other narrow walkways

Signs that indicate the location of hand sanitizing stations
It is important to have physical distancing reminders throughout your location
Barriers and Shields to Accompany Your Safety Signage
In addition to your safety signage, you may also require plexiglass barriers to keep your staff and customers safe. These barriers can protect you from any airborne bacteria and germs that could be passed on by sneezing and coughing. They are a great solution for indoor applications where physical distancing is a challenge.
Some of the key locations where barriers are necessary include:
Don't forget to install plexiglass barriers for further protection
Trust AGC Signs for All Your Safety Signage Needs
You can trust AGC Signs to custom design, manufacture and install any type of safety signage you require from plexiglass barriers to social distancing signs and more.
We have over 10 years of experience in the signage industry in Ontario. All of our technicians are highly skilled and extremely hard-working, and we use only top-of-the-line equipment.
You can trust us to do the job right; we do all the work ourselves and never subcontract it out. Contact us today for a quote.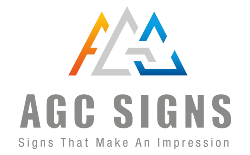 "Great service - the plexiglass installation was excellent. Looks very professional. I searched for various options but found the most professional design was with AGC. Staff were knowledgeable, courteous and the work was done very quickly. And, we were able to get signage at the same time. I would use AGC again if needed."
- Marisa Gower