Syndicated from source by Andrew & Co Graphics & Wallpaper, Hooper, Utah
In this blog, we are going to show you 10 digital signage design ideas that will blow your mind! From interactive fitting room mirrors to digital ceilings that will make you feel like you're visiting the aquarium, there is bound to be a design that will catch your attention.
With AGC Signs, imagine the possibilities for advertising within your business or organization. Let's look at these digital signage design ideas and get some inspiration!
Top 10 Digital Signage Design Ideas
1. Video Walls For Advertising
If you want to make a statement, this video wall does exactly that. It definitely can't be missed by shoppers wandering the corridors. Here you see an advertisement for Mango in Milan. This video wall can be changed to display a variety of products the company offers.
Attract the attention of shoppers with large video walls.
Image Source: https://www.pinterest.com/pin/AXdiUZCrM7rX1PUePtQFg2L8ym4EgxexJXZsb5J9ct0agOjzcFE6NPU/
2. Interactive Video Wall for Experiential Marketing
In this next picture, we have an interactive video wall that can be found in the Nike Soho Store. You can see they are advertising the Nike Apple Watch. Customers can actually get on a treadmill and experience the watch performing in real-time, tracking their distances, time, pace, location, etc. This definitely makes marketing fun!
Give customers experience with products through interactive video walls.
Image Source: https://sneakernews.com/2016/11/09/nike-soho-store/
3. Interactive Video Wall for Coupons
How you program your interactive video wall depends on your products and your customers. If you are a grocery store targeting families that visit your store, you will likely want to highlight deals and coupons. All your customers have to do is scan or take a picture of the coupon they think they might use. Also, the deals can be updated as frequently as needed, which means less paper and less clipping.
Display coupons and deals with an interactive video wall.
Image Source: https://digitalsignageuniverse.typepad.com/digital_signage_universe/2012/08/uk-interactive-advertising-campaign-creates-virtual-supermarket-using-digital-signage.html
4. Interactive Fitting Room Mirrors
Not only can customers see themselves in the dressing room mirror, but they can also use the mirror as an interactive screen to experiment with different colors or clothing and accessories. They can even request assistance, adjust the lighting in the fitting room, or send pictures and information to their mobile. No need to run out of the dressing room to find a matching tie or a different colored shirt.
Make finding that perfect outfit easy with interactive fitting room signs.
Image Source: https://wwd.com/business-news/retail/gallery/ralph-lauren-oak-labs-debut-interactive-fitting-rooms-10281433/
5. Digital Ceilings
If you have large covered outdoor spaces like this walkway below or open lobby spaces where customers spend time waiting, a digital ceiling definitely adds interest to the environment. You could send your clients to aquariums, planetariums, and gardens or give them clear blue skies on a cloudy day.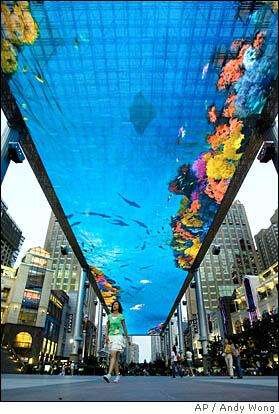 Showcase the wonder and beauty of our world with digital ceilings.
Image Source: https://www.trendhunter.com/trends/gigantic-led-screen
6. Digital Pathways
Literally light up the pathways your customers travel. This is a fun way to catch people's attention and it can't be missed. Plus, the lighting on this staircase makes navigating one's way up and down easier, maybe even safer.
Get people's attention while they are going up or down the stairs.
Image Source: http://gapersblock.com/ac/2010/11/24/art-institute-exhibit-lights-a-path-literally/
7. Digital Hallways
This digital sign throughout the hallway makes me feel like I'm entering a time warp! You can grab people's attention as they're passing in or out of your building, making a strong lasting impression.
Make use of extra space by adding digital signs to your hallways.
Image Source: https://www.behance.net/gallery/23985749/B2B-Showroom-PVI-Tower-Ha-Ni
8. Video Wall Displays
In this example, you can watch a video from the National Geographic Museum. This kind of display is great for giving wide panoramic views or a combination of different angles (watch the video to see how this works). This sort of video display would be great for lobbies, waiting rooms, meeting rooms, or museums like you see here.
Combine digital signs into one larger sign to give your clients a panoramic view.
Image Source: https://www.nationalgeographic.org/
9. Interactive Digital Screens for DIY
Ok, so not exactly DIY in the traditional sense, but in this example, you can see how this bike store provides their customers with screens that allow them to design their own bike. There even seems to be a hologram here! Amazing.
Let your customers have fun designing their own ideas with interactive signs.
Image Source: https://retaildesignblog.net/2015/06/04/rose-biketown-store-by-blocher-blocher-partners-at-mona-mall-munich-germany/
10. Digital Signs for Archways
Last but not least is this example of a modern twist on architecture. I would say these signs are a piece of art in themselves. The designer has cleverly incorporated these signs into unused space while directing customers as they explore the wings of the New York Library.
Direct people's attention with digital signs as they pass in and out of rooms.
Image Source: https://segd.org/celebrating-100-years-exhibition
Whether you have grandiose marble hallways or a simple, humble lobby, why not consider digital signage in your space? While some of these design ideas may be out of reach, you can definitely create some magic with AGC signs.
With over 10 years of experience, AGC is are here to help you incorporate digital signs that are creative and sure to make a lasting impression. Browse their gallery of interior signs for more digital signage design ideas.
Testimonials