Syndicated from source by Andrew & Co Graphics & Wallpaper, Hooper, Utah
Today we're going to explain how the right signage can increase sales for your business.
We've been in the custom sign industry in Ontario for over 10 years and we'd love to share our expertise with you.
In this post we'll not only talk about why signage can increase sales but we'll also outline the steps for making effective signage. So let's get going.
Learn how the right signage can increase sales
How Signage Can Increase Sales for Your Business
Signage Can Increase Your Visibility:
If you want your business to succeed, it needs to be visible. The right signage will make your business more visible to consumers. It will increase customer awareness of your physical store, let them know the different products or services you offer, and alert people of special promotions you are running.
The more people are aware of your presence and what you have to sell, the more chance you have of selling to them. Signage is a simple yet very effective way to inform your target markets and thereby increase sales.

Signage will make your business more visible
Signage Can Build Your Brand:
Branding is incredibly important and can become one of your most valuable assets. According to Neilson's Global New Product Innovation Survey, almost 6 out of every 10 people surveyed said that they prefer to buy new products from brands that they already know and are familiar with.
21% of those surveyed said that they have purchased a new product because it was from a brand that they like. In fact, consumers in both North America and Latin America stated that brand recognition was the second biggest reason why they would purchase a new product; the first reason being the price.
Designing and installing custom signage that builds your company's brand through consistent colours, fonts, and imagery that makes your business more recognizable to your customers will help build their trust in your company and will make them more likely to buy from you.
Consumers are more likely to purchase from a brand they recognize
Signage Can Attract Attention:
A well-made, attractive looking sign can attract the attention of your customers. Using vibrant colours, interesting graphics and intriguing shapes will help people remember your store and draw attention to your business.
Illuminated and digital signs can further help to catch people's attention as the light and movement will make them stand out from their surroundings.
Signage Can Alert Customers about Your Promotions:
Most people can't resist a bargain. Having both exterior and interior signage that alerts your customers about exceptional discounts or limited time offers will encourage them to come into your location and make a purchase.
Limited time offers work especially well to increase sales as they persuade potential customers to take immediate action and make a purchase before the incredible offer ends.
Signage can alert customers about your promotions to increase sales
Signage Will Promote Your Company Image:
Your signage is one of the first things that your customers will see of your business. It provides them with a first impression of your company. Customers will often judge the quality of your product or service by the look of your sign. The more professional your sign is, the better the first impression they will have of you.
How to Make Effective Signage
Get Your Signage Professionally Made:
Unless you are a trained graphic designer, you probably should hire a professional to create your signage for you.
A trained designer will be able to present your business and branding in the most effective way possible and use the right type of software so that it can be manufactured properly. Designing an eye-catching custom sign is not easy.
Graphic designers understand how colour, text, layout, and imagery work together and they are trained to be able to combine these elements to make a sign that will look professional and catch the attention of your customers.
Get your signs professionally made
Pay Attention to the Colours in Your Signage:
Colour plays a huge role in making effective signage that will increase sales. You want to use bold colours that will stand out and attract attention, however, the colours you choose need to go well together and not clash.
A colour wheel is a useful tool to use when deciding on the colours for your sign. If you choose two colours on the colour wheel that are directly opposite to each other, these are known as complementary colours.
Complementary colours will give you a strong contrast and very dramatic effect. For example, you could pair blue with orange or red with green.
For a more subtle contrast, try using a primary colour with one of the two colours on either side of that colour's complementary colour.
For example, if you choose red, then the complementary colour is green. Blue-green and yellow-green are on either side of green on the colour wheel, so to get a softer contrast you could pair red with either blue-green or yellow-green.
The following video explains how to use a colour wheel and how complementary colours work.
Colours play an important part in making your sign effective
Use Easy-to Read Fonts:
Choosing the right font is also key to making high impact signs. Again, a professional designer can help you choose a font that is easy to read and highly appealing.
You want to stay away from cursive fonts that are too ornate as these are not easy to read, especially from a distance.
If your sign needs to be seen from a long distance and by passing traffic, make sure that it is large enough to be read quickly and easily by motorists.
Make Your Signage Relevant:
Relevance is one of the most important factors in creating effective signage. Make sure that your signage is "the right message, to the right consumer, at the right time".
For example if you place a point of sale sign for Chanel perfume in a shop in a high-class mall in a large urban centre, it's going to increase sales much more effectively than the same message running on a country radio station.
Use Your Signage to Announce Changes:
A time of change for your business can be a great opportunity to attract curious consumers. For this reason, you should use signs for exciting moments in your company history such as a grand opening, a change of management, or the introduction of a new product line.
Business announcement signage can promote new interest in your company and help to increase sales.
Use your signage to announce special events like grand openings
For Signage that Will Increase Sales: Contact AGC Signs
If you are looking for effective signage that will increase sales for your business, contact AGC Signs. At AGC Signs, our signage experts have been producing beautiful custom signage for more than 10 years.
You can trust us to help you design the perfect high impact sign for your business, whether you are looking for storefront, exterior, interior, vehicle, backlit signage, or more! Whatever your signage needs, we can make it for you.
AGC Signs is a locally owned and operated custom business sign company working in the Toronto, Clarington, and Durham regions.
We know this area and are familiar with what works best for signage here, whatever your business may be! We understand and keep up-to-date with all the rules and regulations set out by the local municipalities.
We will help you determine which permits you require for any signage that you want to put up and will make sure that your signage complies with all of the region's by-laws.
We are a full-service signage company so we will work with you through every step of the process. We will design, manufacture, install, and maintain any type of custom sign you require. Contact us today for a free, no-obligation quote.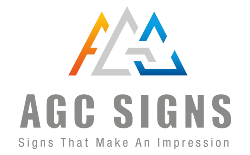 "Agc did an amazing job on our sign! Fast friendly and efficient! Would definitely recommend to anyone for any of your sign or graphic needs!! Thank you guys!"
- Lisa Bambridge-Boughner