Syndicated from source by Andrew & Co Graphics & Wallpaper, Hooper, Utah
Today we're going to tell you how to make effective wayfinding signage systems and why they are so important.
We've been in the custom sign industry in Ontario for over 10 years and we'd love to share our expertise with you.
We'll also outline the different types of wayfinding signage and their purposes. So let's get going.
Wayfinding Signage Systems
Learn more about the art of wayfinding in this video
Effective wayfinding signage systems will include a series of well-planned and strategically-placed signs that will help visitors navigate your building.
Without wayfinding signage systems, you can easily get lost and frustrated when you arrive at an unfamiliar location. Imagine arriving at a new hospital with your wife who is about to give birth and there are no signs to direct you to the maternity ward. This would create a lot of confusion and frustration.
You can easily take for granted the helpful wayfinding signage that seamlessly leads you to where you want to go, however, when it is missing or ineffective, it can add a lot of stress to your visit.
How to Make Effective Wayfinding Signage Systems
Here are some great tips for making effective wayfinding signage systems.
1. Make It Simple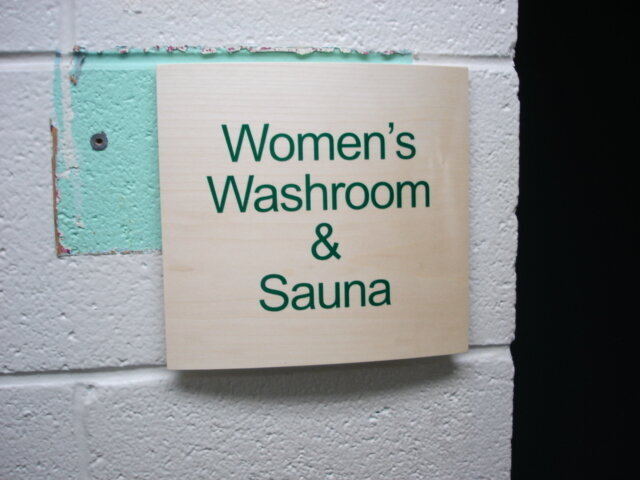 Keep your font easy to read and your text to a minimum
Keeping the design of your wayfinding signs simple will make them easier to read. You want to include only the most important information and remove anything that doesn't relate to getting your guests to where they need to go. Keep your text clear and concise.
Use a font that is easy to read and that is large enough to see from a distance. If you want to include more information than what can easily fit on a wayfinding sign, then you can also install digital signs. These are also great because they are interactive and include things like a digital directory or an interactive map.
This type of signage can let your visitors look up extra information such as a more detailed floor plan showing elevator and washroom locations as well as engaging content about your business.
2. Be Consistent with Your Branding
Use your wayfinding signage to promote your brand
Wayfinding signage systems can also help to promote your brand. For this reason, it is important that you be consistent with your branding on all of your wayfinding signs. You need to keep a balance between making your signage clear and simple and at the same time promoting who your are and what you do.
To do this, keep the colours and fonts of your signage consistent with your branding and choose a design that speaks to your company culture. For example if you are a trendy cafe, then your wayfinding signage can have a funky and unique shape whereas if you are a financial institution, you probably want to choose signage that is more traditional in its shape and design.
You can include your company logo or images that promote your brand, but make sure that they are not distracting from your ultimate purpose of helping your visitors get where they need to go quickly and safely.
3. Choose the Right Locations
Choose high traffic locations and use universal symbols on your signage
Where you place your signs is key to making effective wayfinding signage systems. They need to be located where they will be most useful. Imagine you are coming to your facility for the first time and have no idea where you are going.
Consider all of the places where visitors may need directions such as your parking area, lobby, elevators, corridors, paths, and open spaces. You will especially need signage in high-traffic areas where there is more than one direction you can take. For example, at the end of a hallway or walkway that divides into two or more directions.
If you have more than one building, you might want to colour code the signs for each of your departments and then have easy-to-follow maps posted that show the departments by colour.
Using universal symbols on your signage can also be a great help for visitors who struggle with the language.
4. Coordinate Your Different Types of Wayfinding Signage to Work Together
Wayfinding signage can be used for different purposes such as directing and regulating
There are different types of wayfinding signage including:
Identification: This type of sign will let your visitors know that they have arrived at their desired destination in your building.

Informational signage: This is similar to identification signage, however it tends to be a bit more general and will apply to the overall building.

Directional: Directional signage will help your customers or visitors navigate to where they want to go.

Regulatory: This final type of signage focuses on the safety of your visitors as well as liability concerns.
To learn more about the different types of wayfinding signage check out our post "Wayfinding Signage - What It Is and Why You Need It."
Directional signage should take you where you want to go
All of your wayfinding signage should be designed to work together. Here are some examples of what we mean:
Identification signage should tell you where you are so you can follow directional signs to where you wish to navigate to.

Your directional signage should easily take you to where you are going and then your identification signage should tell you that you have arrived.

Your regulatory signs should keep you out of the areas where you are not allowed to go while you are following your directional signage.

Your informational signs in conjunction with your regulatory signs will guide your behaviour while you are in the facility.
5. Be Creative
Wayfinding signage can look great too!
Who says that wayfinding signage needs to be boring to be effective. It doesn't. You can get creative and show off your brand while making your signage effective.
You can get creative by using unused spaces in your building for your signage such as a blank wall, windows, floors, and doorways. Your wayfinding signage can also add a bit of style to your décor and it can perk up an otherwise dull location.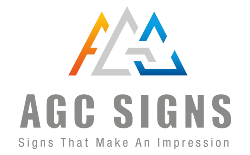 AGC Signs: For Effective Wayfinding Signage Systems
If you are looking for help with your wayfinding signage system, talk to the experts at AGC Signs. You can trust AGC Signs to design, manufacture and install any type of signage you require, including your different types of wayfinding signage. Here are some of the great signage options that we offer:
Interior Signs
Storefront Signs
Backlit Signs
Development Signs
Wayfinding Signs
Pylon Signs
Construction Hoardings
Murals & Prints
Custom Banners
Vehicle Graphics
Awnings
Custom Signs
We have over 10 years of experience in the signage industry in Ontario and we strive to exceed industry standards by providing our clients with superior signage solutions through in-house custom design, fabrication, and installation. Contact us today for a free quote.