Syndicated from source by Andrew & Co Graphics & Wallpaper, Hooper, Utah
Looking for some awesome building signage ideas? Today we're going to show you our favourites.
We've been in the custom sign industry in Ontario for over 10 years and we'd love to share our expertise with you.
In this post we'll show you the top examples of storefront, pin mount, and pylon signs that will definitely get your business noticed. So let's get going.
Building Signage Ideas:
Storefront
We need to start our list of top building signage ideas with a great selection of storefront signs. Get your business noticed and make your best first impression with an amazing storefront sign.
Custom Crafted
Go all out with your custom storefront sign design and add a matching awning to further promote your brand, add protection and include visual interest to your building's facade.
Mural anyone?
Here's a very unique building signage idea from Little Building Cafe, by Annie Coggan, in Mississippi. This eye-catching and quaint mural on the side of the building not only gets your attention but it also makes an otherwise boring wall a very attractive feature.
NOt one but two
Image Source: AGC Signs
If one storefront sign is good, then two may be twice as good. We love how these two signs by AGC Signs complement each other and the architecture of the building.
Go to the Source for Your Inspiration
If you want your signage to look like something in particular, then go to the source. For example, if you would like your eatery to resemble a Paris bakery, then go to the source for your inspiration. Here is a classic design for a French bakery taken by EatMoreDrinkMore on a trip to the city of love.
Pin Mount Signs
Pin mount signs work well either inside or outside. Here are some great pin mount building signage ideas to get you inspired.
Added Dimension
These pin mounted letters from AGC Signs really "pop" and give an extra dimension to this reception area, as they cleverly project from the wall behind.
Living Letters
Bring some nature into your building with this beautiful living wall designed by Natura. The striking green moss gives a wonderfully coloured and textured backdrop for these pin mounted letters.
Simple Elegance
Here's one of our fabulous building signage ideas from AGC Signs for your reception area. Elegant silver letters in an intriguing font, mounted on a dark background really sends a strong message of style.
Pylon Signs
If your business isn't visible by passing traffic, then remedy that with a pylon sign. Here are some effective and highly visible pylon building signage ideas that are sure to attract the attention you need.
Go Digital
Not only will you get noticed with an impressive pylon sign by AGC Signs, but you can also keep you message fresh by adding a digital display.
Simply Effective
Sometimes the simpler the signage, the more effective it is. This impressive pylon sign by AGC Signs does an amazing job of attracting attention and informs passing traffic about this car dealership.
Big and Bright
If you really want to be seen, go big and go bright. This mammoth pylon sign by Denyse will surely catch your attention as you pass by with its sheer size and rainbow colour scheme.
Get the Best Building Signage Ideas from AGC Signs
If you are looking for building signage ideas that will increase sales for your business, contact AGC Signs. At AGC Signs, our signage experts have been producing beautiful custom signage for more than 10 years.
You can trust us to help you design the perfect high impact sign for your business, whether you are looking for storefront, exterior, interior, vehicle, backlit signage, or more! Whatever your signage needs, we can make it for you.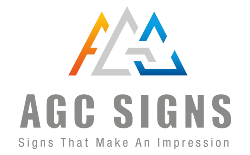 AGC Signs is a locally owned and operated custom business sign company working in the Toronto, Clarington, and Durham regions.
We know this area and are familiar with what works best for signage here, whatever your business may be! We understand and keep up-to-date with all the rules and regulations set out by the local municipalities.
We will help you determine which permits you require for any signage that you want to put up and we will make sure that your signage complies with all of the region's by-laws.
We are a full-service signage company so we will work with you through every step of the process. We will design, manufacture, install, and maintain any type of custom sign you require. Contact us today for a free, no-obligation quote.