Syndicated from source by Andrew & Co Graphics & Wallpaper, Hooper, Utah
Today we're going to answer all of your questions surrounding vehicle wraps.
We've been in the custom sign industry in Ontario for over 10 years and we'd love to share our expertise with you.
In this post we'll take a closer look at vehicle wraps by answering all of your frequently asked questions and showing you why vehicle wraps are an amazing form of advertising for your business. So let's get going.
Vehicle wraps are a great, cost-effective advertising tool
Vehicle Wraps
Vehicle wraps are one of the most cost effective forms of advertising with the potential of getting you hundreds of thousands of views every day. They can help build awareness for your business as they promote your company all day, every day, everywhere you go.
If you've never had vehicle wraps before, then you might have some questions about them and how they work. We've listed below the most frequently asked questions that we get about vehicle wraps to try and help you decide whether they are right for your business.
Vehicle Wraps - FAQ's
1. What Are Vehicle Wraps?
Vehicle graphics are a type of signage for your business vehicles that let your customers know more about your business, even when you are parked or driving around.
2. What type of information should you include on vehicle wraps?
The sky is the limit when it comes to what you can display on your company vehicle. Here are the most common choices:
Company name

Company slogan or tagline

Contact information (phone number, website, email address)

Company logo

Concise information about your business (what do you do?)

Company branding, images, and colours
You can display your company's contact information on your vehicle
3. How long do vehicle wraps last?
High-quality, professionally installed vehicle graphics can last several years. If they are taken care of they may even last longer than your vehicle.
The length of time will depend on weather conditions and how you look after it overall i.e. hand washing as opposed to taking it through a car wash.
4. How do you make your vehicle wrap last longer?
Keeping your vehicle wrap clean and free from dirt and debris will help to prevent scratches on the surface and will prolong its life.
5. How do you wash vehicle wraps?
The best way to clean vehicle wraps is to hand wash them. Using a touchless car wash will also work but avoid taking it through an automatic car wash that has brushes as these can dull the finish on your wrap.
Vehicle wraps can last a long time if you take care of them
6. Should you change your vehicle wraps?
Even though vehicle wraps can last a long time, you may want to change them from time to time. Some reasons why you would change your wrap include:
You update your brand so you want your wrap to reflect this change

The information for your company changes

You want a fresh look so your audience doesn't tune out your message
7. Do vinyl wraps ruin your paint?
Vinyl wraps do not damage the paint on your vehicle, in fact they can help to protect it from things like minor scratches, fading from the sun, minor abrasions, and damage caused by stones chipping your vehicle.
8. How are vinyl wraps applied?
Vinyl wraps are applied to your vehicle's surface with a special adhesive that is activated with a water-based solution. The wrap itself is made from a poly vinyl chloride or PVC material that has plasticizers added to it to make it extremely flexible.
Vinyl wraps are applied with a special adhesive
9. HOW LONG DO Vehicle Graphics TAKE TO INSTALL?
The length of time it takes to install your graphics will depend on the size of your vehicle, the shape of your vehicle, the complexity of your design, and how much of your vehicle you want covered.
A small design can take as little as one day whereas a larger, more complex project can take up to 3 or more days.
10. What Will My Vehicle look like once the Wrap is removed?
When vehicle wraps are removed your paint will look the same as it did before it was applied. However, the removal of wraps should only be attempted by a professional sign installation company.
11. Can Wraps be Fixed if they get damaged in a Car accident?
If your vehicle wrap gets damaged in an accident, then get your vehicle repaired first. Then you can have the damaged pieces of the vehicle wrap replaced. Usually you don't have to replace the entire vehicle wrap as long as only a portion of the wrap is damaged.
You can replace the parts of your vehicle decals that get damaged
12. Do you have to wrap your whole vehicle?
No. You can choose how much of your vehicle you want to cover anywhere from a single door to a complete full wrap.
13. Can any type of vehicle get vehicle wraps?
Yes. Vehicle wraps can be installed on any type of vehicle including cars, vans, pick-up trucks, motorcycles, and transport trucks.
14. Are Vehicle Decals only for Businesses?
No. You can add vehicle decals such as customized stripes, graphics, and artwork to your personal vehicles as well.
Vehicle Wraps: Design Ideas
Here are some more great examples of vehicles wraps. Click on the images below to enlarge them.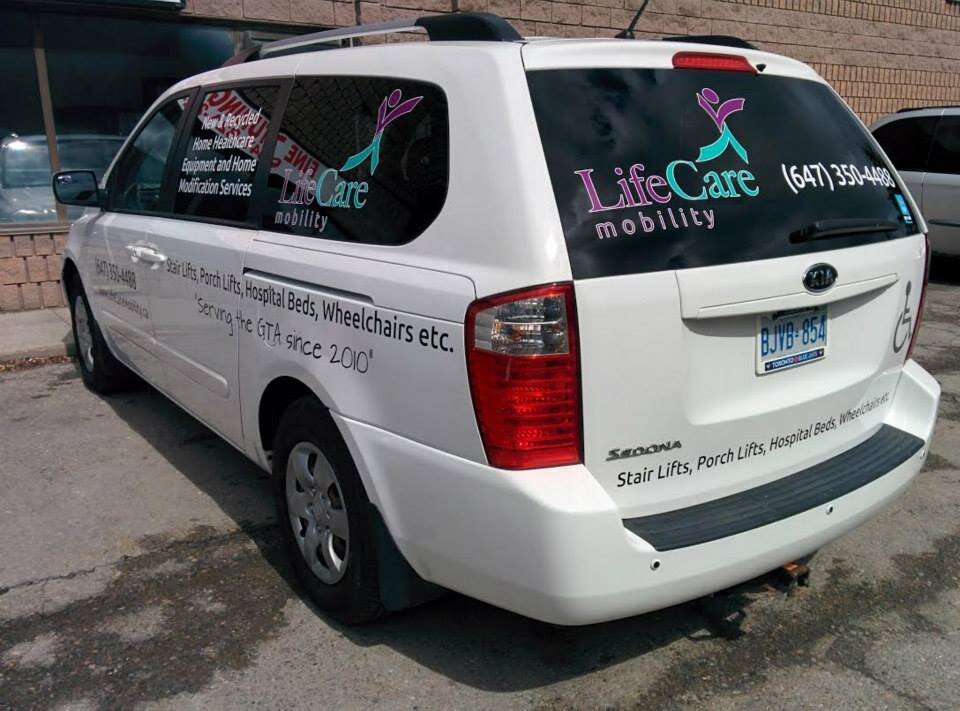 Trust AGC Signs for the Best Vinyl Wraps
You can trust AGC for the best vinyl wraps installation possible. We will be with you every step of the way, up until the signage process and install is complete. We'll help you design the perfect vehicle sign, taking your input into consideration so that you get the exact wrap you want.
We will then manufacture your vehicle sign in-house with the best materials and the highest skill level to make sure that you receive a superior vehicle sign that exceeds industry standards.
Don't stop with just vehicle signage, you can also trust AGC Signs to manufacture and install any type of signage you require. Here are some of the other great signage options that we offer:
Interior Signs
Storefront Signs
Backlit Signs
Development Signs
Wayfinding Signs
Pylon Signs
Construction Hoardings
Murals & Prints
Custom Banners
Awnings
Custom Signs
Plexiglass Barriers