Syndicated from source by Andrew & Co Graphics & Wallpaper, Hooper, Utah
In this post, we are going to discuss why you need a hoarding wall at your construction site.
We have been in the custom sign industry in Ontario for over 10 years and we'd love to share our expertise with you.
In this post, we will let you know what a hoarding wall is and talk about the great benefits of putting one up. So let's get going.
A hoarding wall does more than just protect
Hoarding Wall
A hoarding wall is a temporary structure that is installed around a construction site while construction is going on and is then taken down once the work is finished. They are usually a series of interlocking panels that are made out of painted drywall or plywood.
Hoarding walls can be placed around:
New building construction sites

Buildings that are being renovated or repaired

Units inside malls or other buildings that are are under construction
A hoarding wall can be left plain or it can be covered on the visible side with a printed custom graphic or other types of signage.
Benefits of a Hoarding Wall
1. Hide Unsightly Construction Sites
A construction site is never an appealing thing to look at. A hoarding wall does a great job of hiding an unsightly and messy site. Whether your site is in the centre of town, in the middle of a shopping mall, or any high traffic area, it is a good idea to keep it covered as best you can with an attritive hoarding wall.
Hide your unsightly construction site with a hoarding wall
2. Build Brand Awareness
You can use your hoarding wall to effectively build brand awareness. Because they are usually located in high traffic areas, hoarding walls make a perfect spot for you to market your business as they can be seen from great distances.
The sheer size of the walls makes them an amazing canvas on which you can display your eye-catching graphics to promote your brand.
3. Attract Future Customers
A hoarding wall will let future customers know who you are and what you do. It is a great way to start attracting potential future customers to your business.
As they pass your hoarding wall every day, the images that you have displayed will begin to imprint their memories making them more likely to remember your company. This will be especially useful if they need your products or services in the future.
A hoarding wall can help you attract future customers
4. Safety Purposes
A construction site can be dangerous to people passing by because there is a possibility that flying debris can hit unsuspecting pedestrians or vehicles. Large hoarding walls act as a protective barrier that will keep any loose debris from harming people or things in the vicinity of the work.
5. Keep Design a Secret - Build Anticipation
There's nothing like a huge wall that you can't see around or through to build anticipation and excitement about your business. People will be anxious to see the final product once the construction is finished.
They will be sure to remember your business when your grand opening takes place and will want to be a part of it. Your hoarding wall will also do a great job of keeping your final design a secret, which in itself will add to the suspense and excitement.
A hoarding wall can help build excitement
6. Provide Helpful Information
You can also use your hoarding wall as a source of helpful information for your potential clients. You can display things like the name of your business, your contact information, the type of services or products you are selling, as well as your anticipated opening date.
Great Tips for Making the Most of Your Hoarding Wall
Tip #1: Make Use of Your Space. A hoarding wall has a huge area, so make the most of your available space. Make your images larger than life and your text big enough to be seen from great distances. Unlike other types of signage, you won't have to worry about cramming everything you want to say into the space you have.
Tip #2: Keep It Consistent with Your Brand. Your hoarding wall may be one of your first chances to show off your new brand. Make sure that if you already have an existing brand that your colours, logo, text, and images stay consistent.
Tip #3: Keep It Simple. Keep your text short and legible so it can be read from a distance. This way you will attend to a much larger audience.
Tip #4: Make It Creative The more creative you are with your hoarding wall the more memorable it will be. Many of today's construction hoardings are so beautiful they are more like works of art.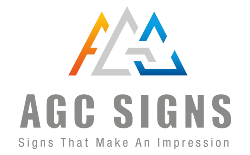 Trust AGC SIGNS for Your Hoarding Wall
LOCALLY OWNED AND OPERATED FULL-SERVICE SIGNAGE COMPANY
AGC Signs is a locally owned custom signage company that has been servicing the Greater Toronto Area and the Durham Region for more than 10 years.
We know this area because we live and work in this area. As a full-service signage company, we will take care of design, manufacturing, installation, and maintenance.
We will be with you through the entire process to give you any type of sign, including hoarding walls, that you require.
EXCEPTIONAL CUSTOMER SERVICE
You know that exceptional customer service is key to a successful business. AGC Signs understands that too, and that is why when you partner with us, we will give you the exceptional customer service you deserve - but don't just take our word for it. Here's what some of our customers have to say about our work.
FAMILIAR WITH LOCAL SIGNAGE BYLAWS
Because we have extensive experience in the local area, we are very familiar with the local signage bylaws. We will make sure that the custom signs we make and install for you will meet all of the requirements of the bylaws.
AGC takes the worry out of making sure you are compliant with the law. We will take care of getting the right permits and paperwork so you can concentrate on your business.
Contact us today for a free quote.
* This article was originally published here
If you have banner and signage needs in Denver, check out https://bannersignprinting.com!
If you need banner printing services in Queens, New York, you can't go wrong with One Source Media!
One Source Media
3100 47th Ave, Queens, NY 11101
(347) 353-5150